Home Collection
Our home projects are unfinished and are available to complete at the workshop or as take-home kits. We'll have all needed supplies, plus a variety of paint and stain, for you to use to customize your project. Be sure to check out our Facebook page for our weekly workshop schedule.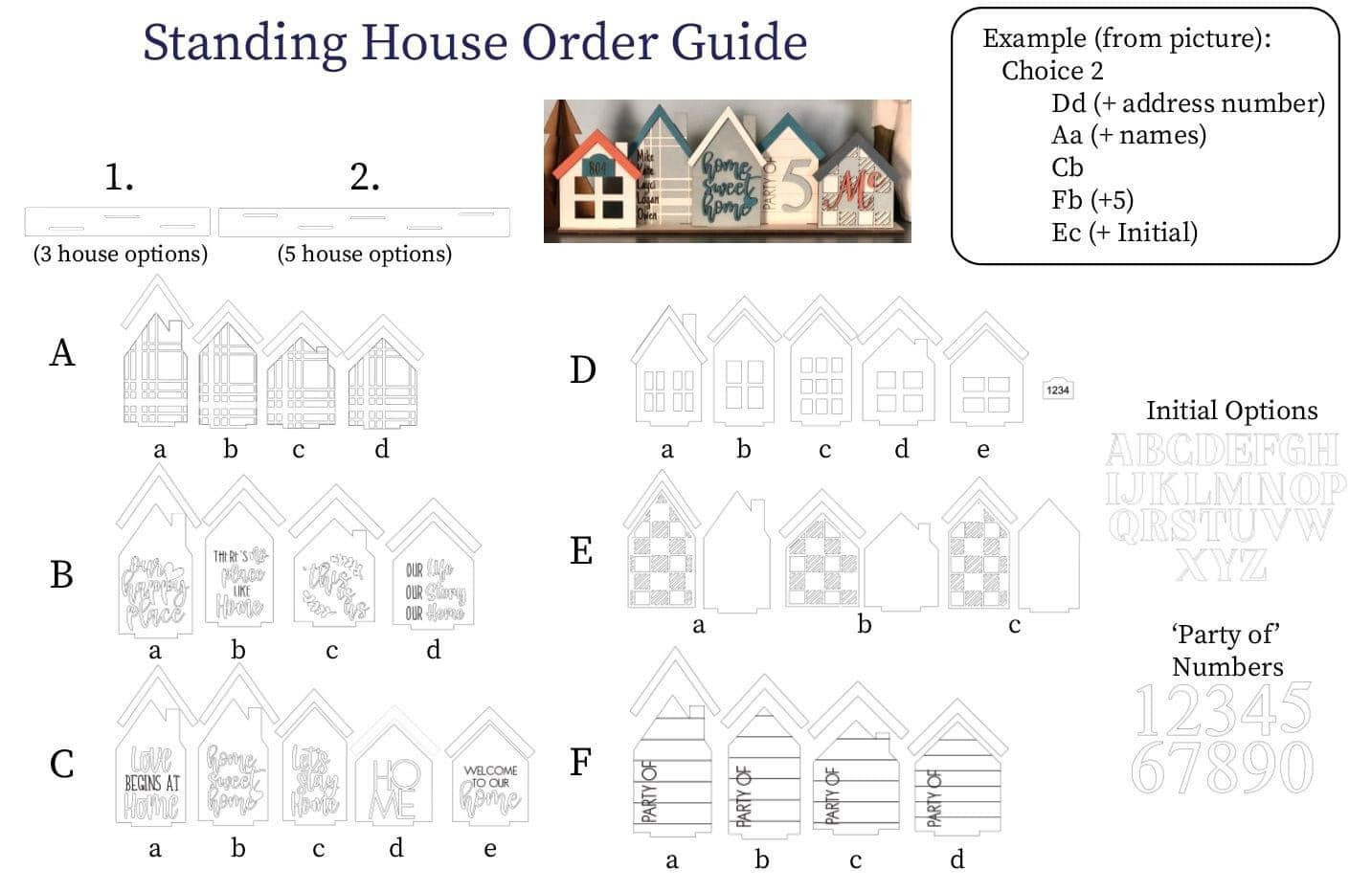 Family Houses
This project is one of our all time favorites!
There are so many options to create your perfect customized project.
You can either choose a three house or five house option.
The three house option is approximately 9 inches long, $20.
The five house option is approximately 15 inches long, $30.
The tallest house is approximately 6 inches tall.
To purchase items from our
Home Collection, please click on the following link.
Welcome to Our Home Sweet Home
It doesn't get any sweeter than our "Welcome" insert and "Home Sweet Home" cutting board.
Large Interchangeable Plate Stand with Welcome insert, $40.
Home Sweet Home Cutting Board, $25.
It's approximately 11.5" x 7" and stand is included.
Both of these look amazing with our Trio Animal Tower.
Personalized Cutting Board
Looking for the perfect wedding, anniversary, or any occasion gift!? Our personalized cutting bard is perfect!
It's approximately 12" x 6.5" and stand is included.
Cost: $30.
You may choose all three personalized pieces (last name initial, last name, and established date) or pick which ones you would like included. Please leave details in comments at check-out.

Mini Interchangeable Plate Stand
The mini plate stand is approximately 8 " in diameter and includes the shiplap backer, solid ring, and pair of legs: $12.
We have four "Home" designs for the mini plate stand. $8 each.
Tiered Tray Items
House, $6
Home Sweet Home, $6
Hello, $6
HOME, $6
Blessed, $12
Monogram Mason Jar, $10
Save 20% by purchasing the whole set, $37.
Please leave your choice of letter for the Monogram Mason Jar in the comment section at check-out.
Welcome Home Door Hanger
Welcome your family and friends with this cute door hanger!
It's approximately 22" in diameter and comes with a bow.
Cost: $50.
Family Tree
Our family tree measures approximately
10" x 10".
You may choose from the following words:
"Our Family"
"Grandkids
Four hearts and one stand are included in price of $25. Additional hearts are $1 each.
Please indicate names for each heart in the comment section. If you would like a paw print with specific names, please indicate too.