Farmhouse Collection
Our farmhouse projects are unfinished and are available to complete at the workshop or as take-home kits. We'll have all needed supplies, plus a variety of paint and stain, for you to use to customize your project. Be sure to check out our Facebook page for our weekly workshop schedule.
To purchase items from our
Farmhouse Collection, please click on the following link.
We absolutely love all things farmhouse, including shiplap and cute barn animals!
Our Trio Animal Tower is stunning and would look fabulous in your home!
It's approximately 18" x 10.5".
Cost: $40.
Interchangeable Plate Stand with Farmhouse insert, $40.
The Interchangeable Plate Stand and Farmhouse insert may be purchased individually.
Farmhouse Tray Items
Collection 1
Home, $10
Stacking Animals, $7
Farm Sweet Farm, $8
Windmill, $4
Milk, $4
Barn, $7
Save 20% by
purchasing the
whole set, $32.
Our Coop Ornament
This adorable "Our Coop" ornament can be customized to fit your family.
Your choice of 1 or 2 parents and up to 6 chicks.
Cost: $10.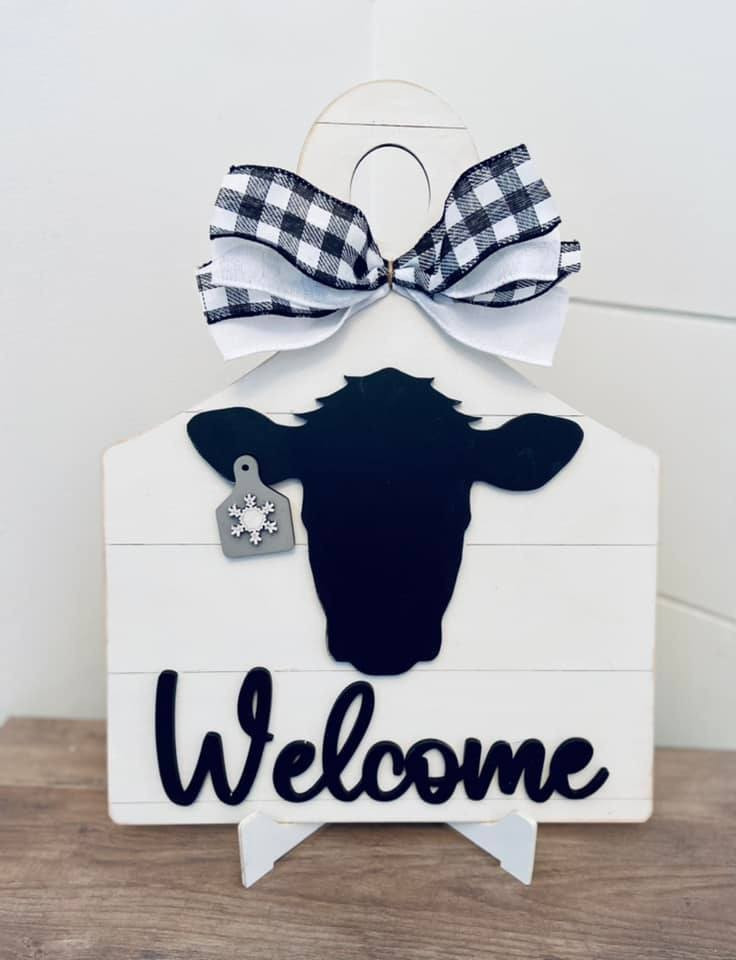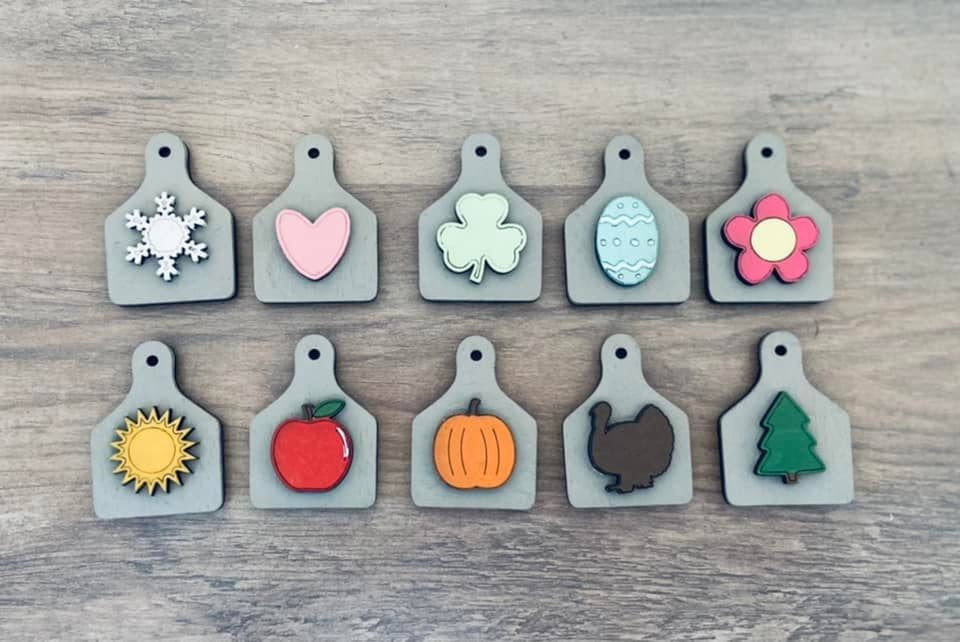 A-MOO-ZING
Our interchangeable cow cutting board truly is
a-MOO-zing!
It's approximately 14" wide x 12" tall.
There are a total of 10 interchangeable ear-tags. Stand and Velcro dots are included.
Cost: $40.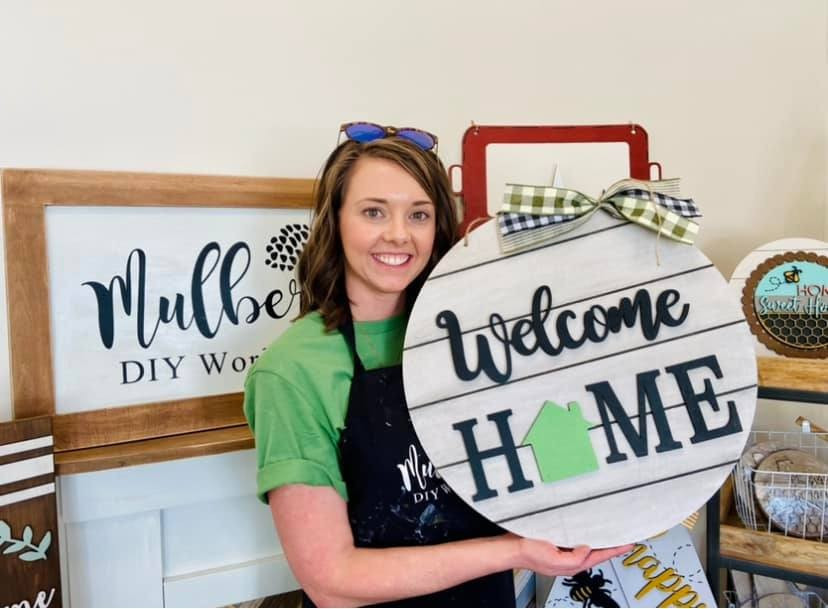 Farmhouse Door Hanger
Welcome your family and friends with this cute door hanger!
It's approximately 18" in diameter and comes with a bow.
Cost: $45.
HOME Barn Mini Hanger
Our HOME Barn hanger is perfect for your modern day homestead.
It's approximately 10.5" x 10.5".
Cost: $25.
You may choose from the following animals: chicken, rooster, cow, horse, pig, or goat. Or grab a few animals and we'll include the Velcro to make the sign interchangeable!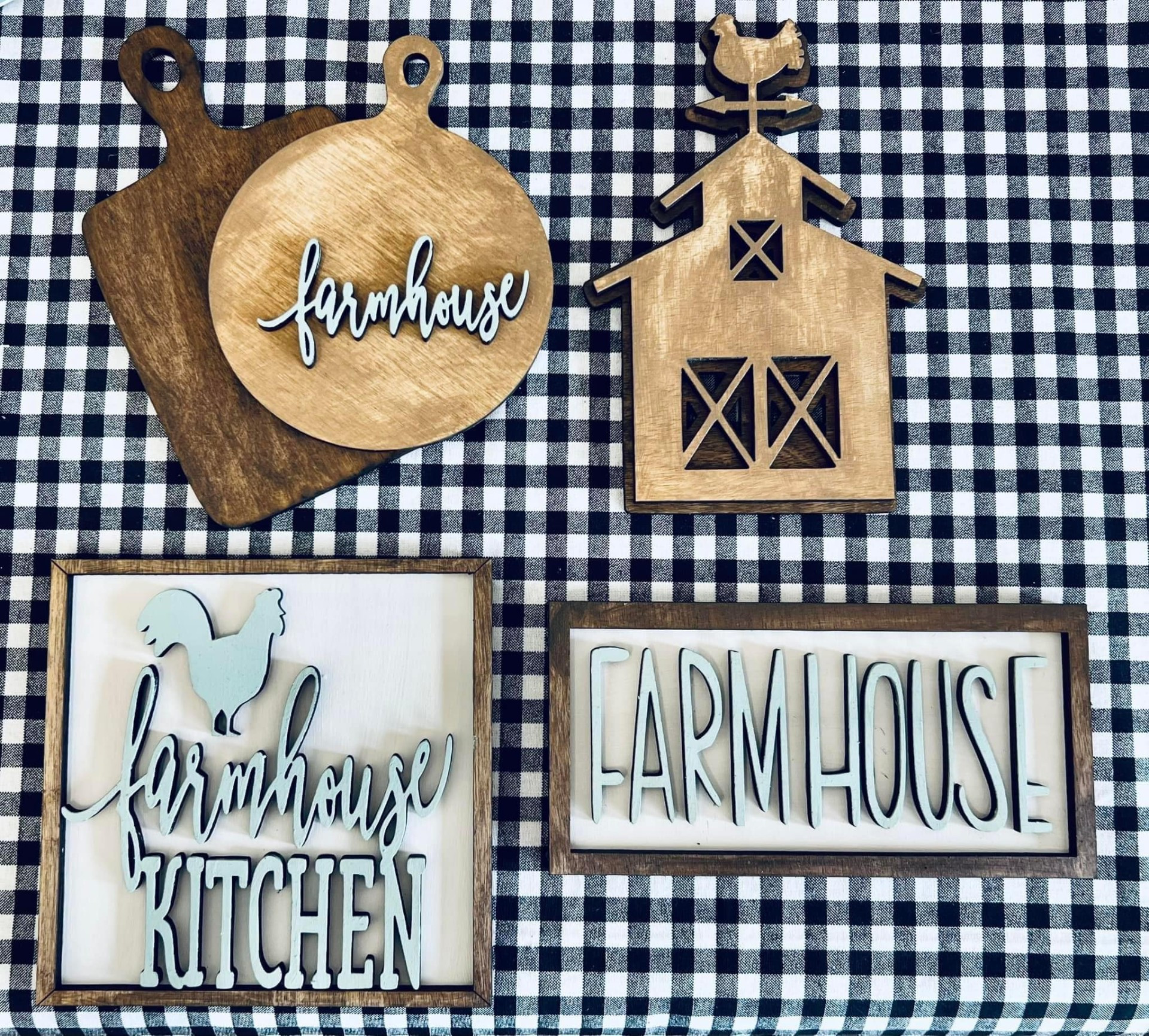 Farmhouse Tray Items
Collection 2
Double cutting boards, $10.
Barn, $6
Farmhouse Kitchen, $8
Farmhouse, $8
Farm Arrows, $6
Farmhouse word, $6
Window, $7
Stacking animals, $5
Save 20% by purchasing the entire set, $45.