HOME Collection
Our HOME collection projects are unfinished and are available to complete at the workshop or as take-home kits. We'll have all needed supplies, plus a variety of paint and stain, for you to use to customize your project. Be sure to check out our Facebook page for our weekly workshop schedule.
We're here to help you create custom, homemade pieces for your home.
Interchangeable HOME Leaner
Our interchangeable HOME leaner is a perfect showcase project! It's approximately 4' x 10" and the letter "O" can be swapped out for every season/holiday. It will look great on your porch or anywhere in your home! We have a variety of inserts to choose from.
Cost: $60 with one insert.
Additional inserts may be purchased for $7 each.
This project is not recommended to complete as a take-home kit.
Interchangeable Farmhouse Truck
Our adorable interchangeable farmhouse truck is approximately 4.5" x 4.5" and includes 10 inserts.
It looks perfect on a tiered tray or as a shelf sitter.
Cost: $18.
Interchangeable HOME Sign
Our interchangeable HOME sign is approximately 3.5" x 7" and includes 10 inserts.
It's a must have for your tiered tray!
Cost: $18.
To purchase items from our
Home Collection, please click on the following link.
Love Tree
Our sweet "Love Tree" would make a perfect wedding, anniversary, or any day gift for a special couple!
It's approximately 6" x 6".
Please include the two names in the comment section during check-out.
Cost: $15.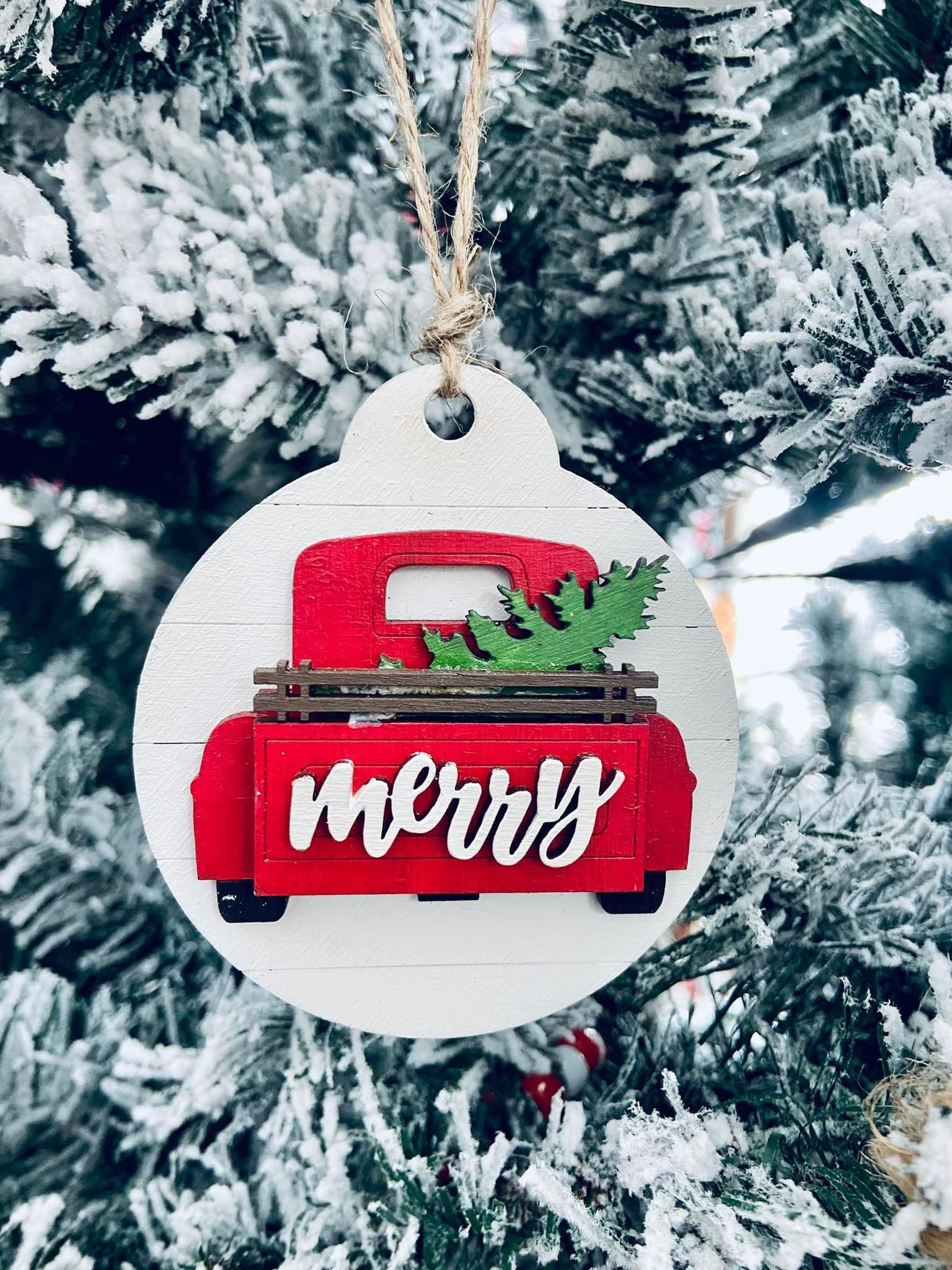 Farmhouse Truck Ornament
Who wouldn't love this cute farmhouse truck ornament!?
It's approximately 3.5" in diameter.
Cost: $6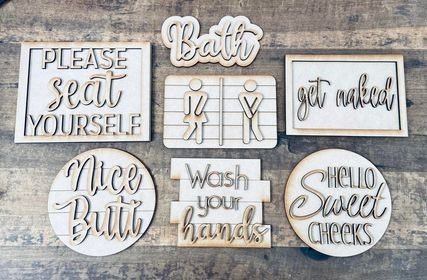 Funny Bathroom Items
These cute items are surely to make guests chuckle! Great for your bathroom shelf.

Please Seat Yourself, $8.
Bath, $4.
Girl/Boy, $6.
Get Naked, $7.
Nice Butt, $6.
Wash Your Hands, $6.
Hello Sweet Cheeks, $6.
Save 15% by purchasing the whole set for $36.50
Interchangeable Welcome Farmhouse Truck
Our interchangeable welcome farmhouse truck is approximately 5" x 5" and includes 8 seasonal inserts.
It looks perfect on a tiered tray or as a shelf sitter.
Cost: $25.